Swap season has officially begun now that the snow is melting and the highways are safe to travel again!  The first swap of the year is always long awaited and this year was no different from the rest.  This particular event yielded the greatest amount of games purchased yet for me, and I'm happy I saved up some money throughout the winter months to splurge here.  It almost made the months without any collecting excitement feel worthwhile.
I suppose I can start with a few Japanese Virtual Boy games.  We recently modded our Virtual Boy with A/V out so that I can play it on a television and also capture gameplay for videos and streaming.  Although the output is not in true 3D since the mod only takes video from one eyepiece, it still makes the games much more playable given that the chances of me taking out Big Red to play some games the intended way was fairly slim before.  I bought two games in absolutely mint condition.  The first is Vertical Force, a game I never even knew existed for the system.  It's a shooter that looks quite promising based on what I've seen so far.  The second game is Panic Bomber, a puzzle game that may or may not be up my alley.  I can't see how a game like this without any type of colour differentiation might be playable, but I hope to try it out soon and see how I like it.  Both games came complete with their manuals in nice, near-perfect boxes.
Although I went in hoping to find a few games for the Master System, I only came away with one: a PAL exclusive game called Cheese Cat-Astrophe Starring Speedy Gonzales.  I hadn't heard of it before but the description on the back of the box talking of the dastardly Dr. Cheesefinger and assurance from the seller of its good quality sold me.  Unfortunately it didn't come with its manual, but I don't think this kind of game would need too much explanation to pick up and play.  I might happen to stumble upon a manual someday, but in the meantime, this was a nice game to add to my humble Master System collection.
I found a few games for the Sega Genesis, and the first two were loose with one coming along with its manual.  The first was Herzog Zwei, a strategy/shooter hybrid I've heard highly praised by many for being one of the best and greatest games on the system.  This game has always been far too expensive for me to pick up in the past, but the price was right for the cartridge alone and I jumped on it. The second game I picked up unboxed was Atomic Runner.  It's a sidescrolling platformer/shooter game that I was pretty entranced by after watching a friend's review. I was instantly sold on wanting to try it out myself.  Although neither of these games are the typical genre I'm attracted to, I think they'll be good at testing my boundaries and challenging me to step outside my comfort zone.
The third Genesis game we bought at the end of the day when things were starting to wrap up and people were looking to move some stock so they didn't have to take it home with them again.  There were a few copies to choose from at different vendor tables, but two didn't come with a manual which was something I really wanted to make sure I got with it.  The game is Haunting: Starring Polterguy, and the premise is scaring a family in their home by doing ghostly things.  I'm hoping this one is as fun as it sounds, but it's a rare MA-13 rating, making it automatically intriguing.  The box art was a little rough along one edge and the manual is permanently bent from being stored on its side, but that's just fine by me!
Onto some Nintendo stuff.  I did happen to find a couple of manuals I was missing.  I'd hoped to find more for my Manual Gaming YouTube series, but unfortunately the pickings were quite boring.  I've never seen more Rad Racer or Tetris manuals in my life, and when people individually price them and want something like $15/manual for more "popular" games, I have no interest in dealing with them.  I did find the Mario Tennis (Game Boy Colour) and Super Mario Advance (Gamy Boy Advance) manuals, which now means my SMA is complete!
I also purchased two Super Nintendo games.  The first is Inindo, a turn-based RPG that was recently brought to my attention that I didn't have yet.  I don't know too much about it to be honest, but it was in good shape despite some nasty goo on the surface I haven't had a chance to clean up yet.  The second game was Sunset Riders, a run-and-gun game that I've heard plenty of great things about.  Sunset Riders is usually fairly pricey but the seller parting with it was selling off his personal collection and was very negotiable on price.  He too was dealing with the end of the day blues and was looking to part with it for a great deal, so I scooped it up.
The bulk of what we picked up at the swap was for the NES.  Two of the games were ones I've been looking for over several years now: Spiritual Warfare and King of Kings from Wisdom Tree.  I did pick up the Wisdom Tree kickstarter NES compilation cartridge a few years ago, but I've also always wanted the original cartridges to add to my only other Christian game from them: Bible Adventures.  The cartridges were both absolutely filthy and even though they still need a good exterior cleaning, the games fired up without much issue when I was testing them.
The last seven games were also all for the NES and vary in their genre and style.  Most of them are once again games I wouldn't normally buy for myself, but I've either seen them played or heard good things about them from others.  I more or less took suggestions from friends since I was short on ideas for other good NES games to look for, and my list became quite long quite quickly.  Most of the games here I bought in bulk from different sellers and was able to haggle a better-than-sticker price, so I ended up saving some cash after all was said and done.
The first game was Clash at Demonhead.  I hadn't heard of this game until the night before the swap and when I looked up a bit of gameplay online, I knew I had to give it a whirl if I coud find it.  The style of this game is so unique and cute that I couldn't say no when I saw it.  The seller I bought it from was trying to push a complete in box copy on me for an extra $25, and I didn't go for that.  Next up is Xexyz, a really interesting genre hybrid game that marries shooter mechanics and some platforming elements.  I'm so familiar with the soundtrack by this point that it isn't even funny, but I've never had the chance to play this one myself.  Mendel's Palace was a total gamble.  I looked at the label art and decided to take the plunge knowing nothing else about it.  Thankfully, it turns out that it's a pretty promising puzzle/action game where you have to murder enemies using a floor made of cards.  It sounds weird and probably is weird, and it'll be a fun foray when I finally get around to playing it.  Last but not least from this bunch is Tombs & Treasure, a point-and-click adventure game that I'm pretty excited to try.  I think it's in the same vein as games like Shadowgate, Deja Vu and Uninvited where you're playing from that first person perspective.  I recently played through King's Quest V on NES again, and even though this game isn't like that at all, I'm pumped at the prospect of having more PC-like NES experiences.
The last bunch of NES games were also very exciting finds for me.  Vice Project Doom is something that has been hyped up to me by many different people for two reasons.  Firstly, the game is apparently a joy to play, and secondly, it has meatstick powerups in it.  I do a stream night on Mondays called Meatstick Mondays where I play games with bone-in meatsticks in them (sounds weird, but it gets me playing games that I wouldn't normally choose for myself.)  It's a two-fold win!  Darkwing Duck is one I've always wanted to own and play but have never wanted to play the going rate, but this one I bought from the same seller as Sunset Riders so it came to me for a deal.  And finally, Kabuki Quantum Fighter had me hooked when I first saw hair being used as a weapon.  What else could you possibly want in a side-scrolling action game?

This was the first swap in a long while where I didn't have any trades to bring along, and this was again due in part to having such a miserable collecting winter.  There were so few games to buy locally that I just didn't have anything lying around to trade, which was a little sad for me.  As much as I'm not used to parting with actual cash at these things, this was a nice opportunity to get back on the collecting scene and diversify my interests a little bit.  As always, here's a little group photo of the new additions!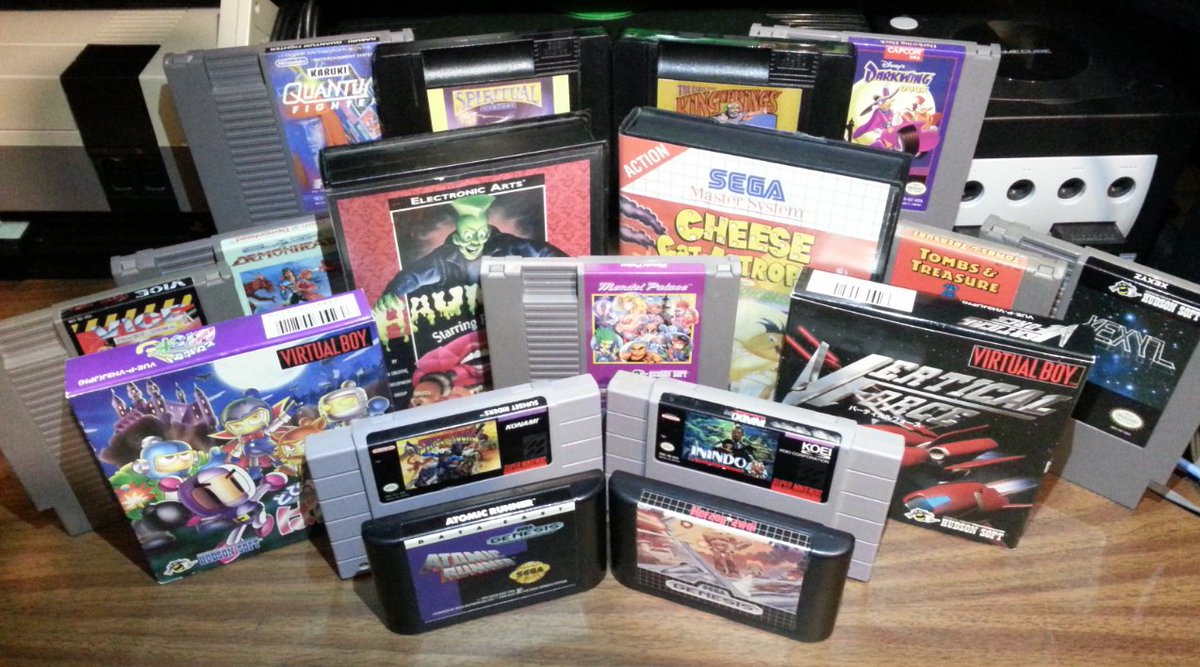 More swaps are coming up in the next few weeks and months, and I've also got a few other casual collecting posts to update you all on as well.  Stay tuned!
Thank you for reading!
-GG
p.s. Even though I'm not doing any kind of written reviews here, I have been doing video reviews and retrospectives over on YouTube.  I wanted to share this one I put out yesterday on my experiences playing The Legend of Zelda's second quest on NES.